opinie Dell-Tychon
sE
: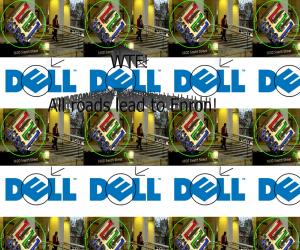 xxell's circledsE
Tychon-Dell-Tychon, casus europae sinds 2000
...geregistreerd
een week voor de vrije val van de Nasdaq!
sE
:
How Dell uses and abuses someone else's 'E':
De zaak kan eenvoudigweg niet blijven staan, want valt als zodanig buiten de jurisdictie van het Nederlandse rechtsbestel en rechtbanksysteem:
xxell's E-systeem = authentieke 1e claim
Wie het kleine niet eert, die het grote niet weert!
Fort Europa is geconcipieerd naar en geconstitueerd op Amerikaans economisch fundamentalisme en consoliderende agressiviteit - analoog aan bijvoorbeeld alle Franse wijnstokken die op Amerikaanse wortels uit de nieuwe wereld zijn geënt vanwege een virus-ziekte: rechts- en vrijheids-begrip zijn middels intranationale zwaardmacht geforceerd tot stand gekomen: de ondeelbaarheid van de westerse vrijheid en veiligheid staan buiten kijf volgens condoleezza Rice: 'het heeft daarom geen zin Europeanen te bedreigen'.
Zoals de Sarbanes-Oxley Act aangaande bestuursfatsoen ook geldt voor buitenlandse bedrijven die in de VS actief zijn, zo ook zijn bedreigingen van Europese ingezeten door Amerikaanse bedrijven, als hier bijvoorbeeld Dell, met hun hoofdzetel in de VS, te toetsen aan de Code Tabaksblatt, betreffende ondernemings-ethiek.
In detail is de geraffineerde en creatieve finesse van het aangetastte bouwwerk - de Europese 'constructie'- zèlfs niet meer herkenbaar voor de expert / hoofdbouwmeester / architect omdat ieder vooruitzicht op overzicht onttrokken wordt aan iedere waarneming, dus ondenkbaar en niet meer navoelbaar is geworden.
Zo ook in de IP-zaak / E-slagveld Tychon-Dell-Tychon:
Een zijdens Dell met strategische vertraging en agressief gedrag gebombardeerde zaak die daardoor in detail onherkenbaar is geworden, dus niet meer onafhankelijk te duiden en niet meer te wegen door gebrek aan expertise, analytisch vermogen en inzichtelijke wetstoepassing, waardoor de oorzakelijke samenhang en sequentie der eertijds samenstellende delen niet meer op hun relevantie zijn in te schatten, laat staan boven water te halen: te complex geworden en te oud.
Daar men aan het detail de meester (her)kent verzoek ik u, edelachtbare...
Ook de door Dell en andere onderzochte mondiaal opererende bedrijfsmatige agressors gecorrumpeerde instituties als bijvoorbeeld de nationale zwaardmacht, zijn uiteindelijk onderhevig aan de zwaartekracht!
Woensdag 6 juni, 2007
Dr Andreas Renck, Lovells.com
Verloor voor Dell bij het OHIM de zaak van Tychon:
Partner
Andreas Renck
Brands and Trade Marks, Copyright and Databases, Designs, Domain Names, Intellectual Property Disputes, Intellectual Property Transactions
Contact details
Tel: +34 965 1383 00
Languages spoken
English
German
Spanish

Career highlights
advising Allianz AG on worldwide settlement and coexistence agreement with main competitor in asset management field
advising Red Bull GmbH on European prosecution and litigation strategy
representing GSK in proceedings before the CFI against Pfizer.
---
Page mailing to a friend temporary disabled