In staat van 'wijzen'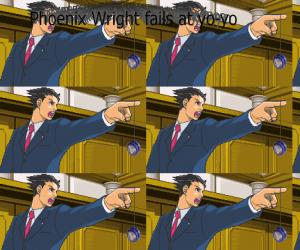 www.wrightfailsatyoyo.ytmnd.com
Meest recente stand van zaken: "IN STAAT VAN WIJZEN"!
Last updated: march 03, 2009
Onderstaande verklaring werd als 'nader bewijs' t.a.v. het gebruik van het merk afgewezen door het gerechtshof te Den Haag. De advocaat, mr J.L.J.E. Koster werd wegens incompetentie en obstructie door belanghebbende Tychon vlak vòòr de zitting van de zaak gehaald die nu volgens het hoofd van de griffie, mevr. Davids, 'in staat van wijzen' (uit het oosten?) is tot 9 februari 2009! Nota Bene: registratie merk sE : 11 februari 2000!
Wegens het verdere ontbreken van gerechtelijke vertegenwoordiging moest ik op eigen initiatief telefonisch van de griffie horen dat het wijzen van arrest 12 weken is 'aangehouden' tot 12 mei 2009, en na verlenging tot Juli, nu wéér uitgesteld tot december 2009! De tienjarige terreuroorlog wordt dus wel gehaald met een beetje goede wil. Volgens mij weet het Hof niet wat ze ermee aan moeten. Zoals de Raadsheer-commissaris mij ooit privé liet weten: "Wat jij wil, duurt nog zeker dertig jaar"... naar aanleiding van mijn zaak 'Markt-Maas' bij de Raad van State, later uitgegroeid tot 'Casus Europae' voor het Europese Hof voor de Rechten van De Mens. Overigens ook gewoon zonder doorvragen terzijde geschoven door onverantwoordelijke en corrupte rechters.











mr. J.L.J.E. Koster
voorzitter van de maatschap

Opleiding(en) en jaar van diploma
Rijksuniversiteit Utrecht
1973

Jaar van (eerste) beëdiging
1974

Werkgebieden
ambtenarenrecht, arbeidsrecht, bestuursrecht, contractenrecht, huurrecht, intellectuele eigendom,
mediarecht, ondernemingsrecht

Bijzondere aandachtsgebieden
arbeidsrecht, intellectuele eigendom

Lidmaatschappen
BMM (Beneluxvereniging voor Merken- en Modellenrecht), coördinator sectie Intellectuele Eigendom Netlaw.

E-mail
koster@adelmeijerhoyng.nl
VERKLARING
Ondergetekende, Marco Dieleman verklaart aangaande de reële werking en het werkelijke gebruik van het merk sE t.b.v. de merkmethode van het internet sE-merksysteem binnen de relevante periode 11.02.2000 - 12.02.2005, het volgende:
Voor rechthebbende -administrative contact- ir. S.G.M.. Tychon zo'n 1200 domeinnamen volgens de -niet geheel volledige- lijsten van productie 45 bij respectievelijk de volgende ICANN-geaccrediteerde registrars te hebben doen registreren in de periode 11.02.2000 - 13.10.2000:
Een deel van deze domeinnamen zijn vanaf 25.04.2000 onder het merk sE op de website van Tychon, dot-E.net te koop aangeboden, waarbij de selectie, èèn voor èèn via aanklikken door gegadigden, in een pop-up venster verschenen onder de afbeelding van het merk sE in het statische gedeelte -grijs op de screenshot- links van de -zwarte- verticaal bewegende 'golf' met namen. Aldus werd op iedere aangeklikte domeinnaam telkens afzonderlijk het merk sE aangebracht en dus reëel geexploiteerd.
Voorts stel ik vast dat de bijgaande screenshot van 19 June 2002 / Lovells > OAMI 13/03 '03 Fax: +34 96 5144303, die staat gecentreerd op dellaware.com -geregistreerd op 31.07.2000 bij NameIt.net- een momentopname is van de hele reeks met verticaal bewegende domein-namen. Een uitsnede dus.
Biedingen middels het pop-up venster kwamen via domains@dot-E.net direct bij mij binnen op mijn email adres info@dieleman.nl ter behandeling en administratieve afwikkeling in overleg met rechthebbende Tychon. Zo ook het bod van 4000 DM vam Stefan Schuster, director business development van kabel.com op Tychon's domein .EUtrax.com dat binnen een week na plaatsing binnenkwam: registratie op 29.05.2000 en eerste bod reeds op 06.06.2000.
Veel van de sE systeem-gerelateerde dot-E-domeinen staan op p.6 of 24 en p.7of 24 van het gedeelte (B) domeinnamen per registrant -hetgeen registrar moet zijn. Op p.1of 24 staat EUtrax.com, per 29.05.2000 geregistreed bij DirectNic.com. Al deze namen zijn door Tychon bedacht en aan mij ter registratie opgegeven en door hem afgerekend. Hij is dus ook de eigenaar van het achterliggende intellectuele eigendom geweest.
Het bod van kabel.com - toch geen klein bedrijf - toont aan dat het louter afbeelden van een merk op een site met gerelateerde domeinnamen wel degelijk een activiteit kan zijn die zonder meer -namelijk via geavanceerde zoekmachines- omzet kan genereren of vinden, en zelfs binnen een week na een idee, concept of uitwerking, zonder mailings of overige reclame , zoals hierboven, als je maar weet hoe sE werkt! "Je ziet het pas als je het door hebt", zei grootfilosoof Johan Cruijff terecht!
Regelmatig heb ik Tychon er echter op gewezen dat het allemaal veel te veel namen werden en het weinig zin had behoudens de strategisch goede namen als greatmarks.com en heb hem herhaaldelijk geadviseerd zich te concentreren op de dot-E-methode en de doorontwikkeling daarvan.
Ik zie niet in hoe Tychon Dell te kwader trouw dwars zou hebben willen zitten met al die namen en zijn registraties in China en de Verenigde Staten, die op een heel andere bedoeling wijzen, zeker voor een beginnend ondernemer.
Aan de notatie dot.e-world gebezigd door Selale Dogan (die ik niet ken) als in bijgaande Email van 06 maart 2007, kan ik geen touw vastknopen anders dan totale internet-verwarring. Het merk sE vertaalt zich in dot-E met domein dot-E.net en dot-E world als bedrijfsaanduiding.
Ik ben van mening dat het sE-systeem' zoals door Tychon ontwikkeld een authentieke eerste claim inhoudt dat zelfs van idee tot eerste resultaat slechts ruim drie maanden nodig had om als volwassen marktpartij mee te dingen naar serieus marktaandeel (bod kabel.com) en met de potentie dat ook te kunnen behouden en zodoende de commerciële bestaansreden volledig waarmaakt.
De verbeterde versie van dot-E.net door Oscar Fischer vertoont logischerwijze het alfabetische/numerieke begin van de hele lijst betreffende domeinnamen.. Overigens was licentieneming van het merk sE een logische optie bij veel van de namen.
Van prof. mr. T.M. Kolle of mr. A.S. Dogan (als hierboven) heb ik nog nooit gehoord.
Het subdomein bij virtualave.net -xtrella- is door Tychon bedacht en door hem bij Oscar Fischer aangeleverd. Dat had natuurlijk, achteraf gezien, veel beter 'dot-E' kunnen zijn.
Een ander bod door een Israelisch High-tech bedrijf kan ik zonder domeinnaam niet in mijn administratie terugvinden.
Op 13.10.2000 heb ik de laatste domeinnaam voor Tychon laten registreren.
dot-E.net werd gratis gehost door www.virtualave.net tot ongeveer begin 2004, terwijl de laatste domeinnaam waarvan Tychon rechtmatig eigenaar was, op 13.10.2001 is verlopen, waarna alle namen ook weer vrij kwamen voor derden, of ze nou nog op de website stonden of niet.
Op 01.04.2001 eindigde de zakelijke relatie met Tychon door verschil van inzichten en is even later de zaak overgenomen door Dennis Huurdeman van Qliq.it internet-technologies te Heerlen.
Sindsdien heb ik geen contact meer gehad met Tychon, maar wel nog vorig jaar (2007) met Bram Stoeken van buro kloet en van de merwe architekten te Delft, en van aanvullend bewijsmateriaal voorzien (bod van kabel.com) Onlangs is ook nog drs.Marc Hendriks aan de deur geweest en heeft een afdruk van de verbeterde versie van dot-E.net -door Oscar Fischer- meegekregen.
Marco Dieleman - Dieleman internetdiensten
Calling expert witnesses
The article "Dueling experts in U.S. courts," (IHT.com Aug. 12) highlighted the differences between American law and the laws of other countries regarding expert witness testimony. As the article correctly points out, juries in the U.S. often have difficulty evaluating the testimony of dueling experts and frequently make decisions based on factors such as the expert's demeanor, credentials and ability to condense complex information into easily digestible bite-sized chunks.
Unfortunately, an expert's appearance and language facility have nothing to do with whether her testimony is scientifically supported.
The nature of the American process unwittingly demeans science and reinforces the skepticism with which many juries and judges treat expert testimony. Because experts are called by one side or the other, the experts are often denounced as hired guns. Jurors expect that experts will say anything the side that is paying them wants them to say.
Paid experts called by one side or the other are often forced into either stating conclusions more forcefully than may be scientifically warranted or appearing wishy-washy and unconvincing to a jury.
One solution to the expert witness credibility problem is to follow the course prescribed in many countries and insist that only judges call and examine expert witnesses. Judges would be signaling to jurors that the court finds the expert witnesses impartial and credible.
When there are legitimate discrepancies in the scientific community, U.S. courts could embrace a practice used in Australia that was alluded to in the article. In that procedure, which is known as concurrent evidence, experts testify together at trial and clarify issues, looking to find common ground.
Adopting a less adversarial approach to the introduction of expert testimony in American courts would strengthen the jury system.
Patrick Mattimore, Gex, France Former California prosecutor
---
Page mailing to a friend temporary disabled